PROFESSIONAL - TECHNOLOGY - ENTERTAINMENT
City to Hillside views,
Screening Room to Penthouse,
a premiere Sunset Plaza address.
FORM & FUNCTION
Carefully maintained for quality finish, combined with regularly upgraded infrastructure.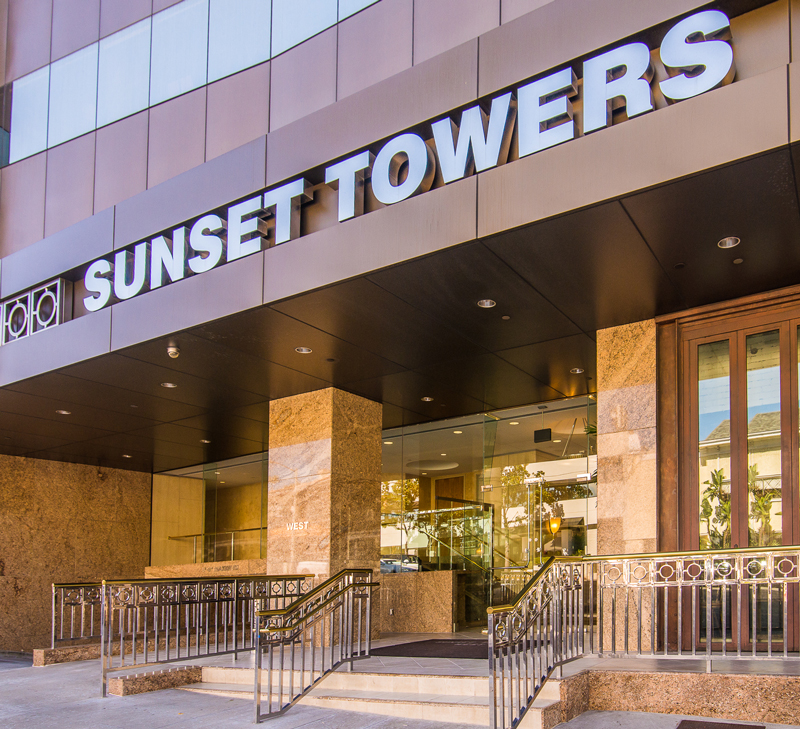 At the epicenter of Sunset Boulevard...
S Starting with an elegant lobby ambiance with attention to detail, from an inspiring hand-painted mural to soft background music amidst contemporary architectural refinement, Sunset Towers takes special care of its facilities. Possibly the most expansive parking in the area, it is kept clean, well lit, with polished
floors, and extensive security. Also enjoy on premises tenant storage, screening room, restaurant, 24x7 guard services, and a bit more. Additionally, immediately outside the property are the wonderful collection of high-end restaurants, hospitality, & retail Sunset Plaza is known for - all within walking distance for your convenience.
OFFICE PARKING RATIO
3 parking per 1000 RSF
Amenities
Central location on Sunset Plaza, immediate dining & shopping
Private luxury screening room services
City views & balconies
Extensive covered parking
Fully accessible technology/broadband premises
24-hour x 7 days on premises security & surveillance